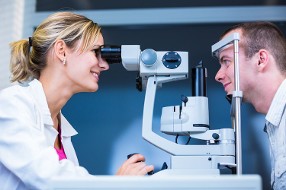 At Linder Opticians in Lower Gwynedd, Pennsylvania, we understand that in taking good care of your vision, you will need reliable eye exams from a certified optometrist. Bearing this in mind, we have employed an independent professional, who will examine your eyes using our state-of-the-art equipment.
Mandatory Eye Care
Ever since we relocated here, customers have accessed the dependable services of our eye specialist. Based on popular medical advice, you should get your eyes examined every two-years. These will include tests for evaluating your vision's refraction, as well as checkups for any present diseases or abnormalities. After your consultation, he will advise you on the best ways of keeping your peepers healthy. One of them is by using prescription glasses that will correct your vision problems.
Optical Expertise
When you drop by for a checkup, our optometrist will perform standard test procedures. Given his professionalism and personable nature, you will get dependable diagnosis and advice. During your consultation, he will walk you through the process while assuring your total comfort. Please feel free to ask questions and detail your condition or discomfort, if any. In order to maximize his assistance, you need to communicate with him openly. Consultation rates start at $95. We accept payment from two types of insurances. For further inquiries, please call us today.